Autoclavs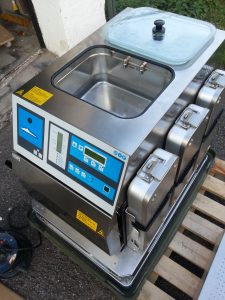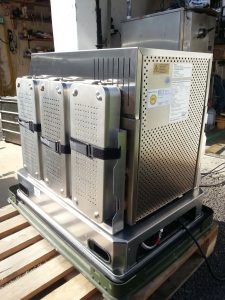 For sale is steam sterilizers Varioklav TC 25 B-Class as a mobile version. Never USED only Storaged!!! The SET was developed and used by German Army . The device was never used primarily and were only storaged over the years with regulary service. The equipment is year 2004, but has only few cycles test runs behind. The divices have several fails and must be checked by Autoclave expert. In most of the problems can be served with new settings ore little repair works. Very nice and robust autoclave set with a new price of 15,000, – in the design and the same accessories.
The offer includes:
-Varioklav 25 TC basic unit
-big sterilization container
-3 smaller sterilization container with lid
-4 Sterilisatuionstrays
-Sterilization rack for laboratory use
-Heat-resistant special gloves
-The device is delivered in a box Zarger. Is the lower part of the device is firmly connected to the lid of the box, but can be removed if necessary.
-10 Paper rolls for the built-in printer.
-Operating Instructions / Equipment Book / Technical Documents
Standard-compliant specifications:
Stainless steel processing, fittings, instrumentation, control and process flow by European medical device standards
Steriliser 25 TC according to prEN 13060
Type B,
Effective volume: 25 liters
Power connection: 230 V / 50 Hz
ca 3.5 kWh
Contact us for more informations.
We ship worldwide, the transport costs must be calculated separately.
For more images or offer with more units please contact us via email.